Well made, improved in detail and with very low consumption, the Iveco Stralis AS440S42 impressed in the test.
23.02.2015
It´s naturally tempting to speak of an Italian when referring to the Iveco Stralis. It never actually was one, though. It has German genes, was built in Germany, and is now more Spanish than Italian or German. In short: For more than a year, the birthplace of every heavy Iveco has been Spain. When production was relocated from its traditional home in Ulm-Donautal to Madrid, the question arose as to whether the Spaniards are even capable of assembling high-quality trucks.
They are. Never before had such a well-made heavy Iveco taken part in the test. None was ever as mature and had such highly functional driver assistance systems as this dark blue AS440S42. And—here is where a fourth country becomes involved—it achieved very good consumption values using conventional methods, which is attributable to the Iveco engine plant in Arbon, Switzerland. In this context, means that the Stralis is not yet equipped with assistants like the predictive cruise control, the demand-controlled auxiliaries or the aerodynamic refinements used by a truck such as the Mercedes Actros. However, it does feature an Eco package with high axle ratio and other ways of driving down consumption. They include driving-style analysis and recently, a gearbox with Eco-roll function. It is also worth noting the 0W20 engine oil, which allows the engine to run 10 to 15 degrees Celsius hotter than before and extends the maintenance intervals of the particulate filter to 600,000 kilometers.
Kompletten Inhalt freischalten ...
Kaufen Sie diesen Artikel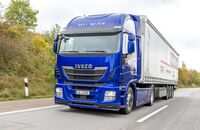 Iveco Stralis AS440S42
Successful appearance
Nach dem Kauf können Sie diesen Artikel in Ihrem Profil unter gekaufte Artikel jederzeit aufrufen. Falls Sie noch kein Profil haben, können Sie sich hier kostenlos registrieren.
3.99 €