Featuring the roomy Space Cab and the most powerful version of the MX-11 10.8-liter engine, the DAF CF 440 is a lightweight and economical alternative for long distances as well.
31.08.2015
Introducing Euro 6, completely overhauling the model lines and reorganizing the product range—DAF has been pretty busy over the past two or three years. The Dutch company is now working on the details as part of its 2015 initiative. This slogan is also appears prominently on the current test vehicle, a CF 440 Space Cab. With axle configurations from 4x2 to 8x4, DAF`s versatile model for on-road and construction-site applications is available with a broad range of engines: twelve engine output ratings of 220 to 510 hp from 6.7 or 10.8 and 12.9 liters displacement. The most powerful version of the MX-11 10.8-liter unit is designated the 440` which stands for 435 hp and 2,100 Nm torque.
According to DAF, Edition 2015 or the DAF Transport Efficiency program includes consumption-optimized MX engines (MX-11 and MX-13), improved aerodynamics with new roof and side spoilers, and Predictive Cruise Control (PCC) with Eco mode and influence on the shifting strategy. Referring to the MX-11, the Dutch speak of optimized oil management and more efficient combustion through modifications to the combustion chamber, fuel injection and software. DAF estimates that the new generation consumes up to two percent less fuel.
In the final assessment, the CF 440 actually does perform well in terms of diesel consumption. With Euro 6 in the EGR plus SCR variant, the combined fuel consumption of 33.9 liters represents a new record on the test circuit. So far, just Iveco and Scania have matched or fallen below this value with their SCR-only engines. However, their engines consume considerably more AdBlue. It therefore remains to be seen which of these two approaches will prevail in the near future.
Kompletten Inhalt freischalten ...
Kostenlos für unsere Digital-Abonnenten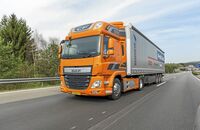 Melden Sie sich an und prüfen Sie, ob Ihre Abonummer in Ihrem Profil hinterlegt ist. Wenn Sie Abonnent sind, aber noch kein Profil haben, können Sie sich hier registrieren. Weitere Informationen zu Registrierung und Anmeldung finden Sie hier.
Kaufen Sie diesen Artikel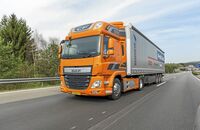 DAF CF 440 Space Cab
The economical alternative
Nach dem Kauf können Sie diesen Artikel in Ihrem Profil unter gekaufte Artikel jederzeit aufrufen. Falls Sie noch kein Profil haben, können Sie sich hier kostenlos registrieren.
3.99 €