The transporter market is going from strength to strength. The biggest players in the mid-size van segment are the VW Transporter, Ford Transit Custom and Mercedes Vito, with all three opting against multi-brand model cooperations. But who has the best product policy? Find out in our comparison test.
21.11.2016
Martin Schou
Out of all the measurements that arose from this comparison test, one number impresses more than any other: more than half of new registrations in the three-ton class of the european market (56.9 percent) go to the T6, Vito and Transit Custom. Reason enough to invite the three big hitters to a showdown. The rules are simple: the most compact body variant, mid-level motorization, and a budget of 10,000 euros for extra equipment. This means that all three come in below the city-friendly five meter mark, with engines churning out 105 HP (Ford) or 114 HP (VW and Mercedes). More than enough to carry the test weight of 500 kilograms.
Transit: Stately yet dynamic
Perhaps unexpectedly, the supposed weakest of our trio labored least under our test load. For a transporter, the Transit Custom is remarkably agile in the hustle and bustle of the city. You'd certainly be forgiven for questioning the figure of 105 HP. The solution to this puzzle is the mighty torque of the new two-liter Ecoblue diesel engine, with 360 Nm pulling at the front axle from an early 1,375 rpm. On loose and slippery surfaces, the Ford is somewhat overwhelmed with all this power, irascibly tugging at the steering wheel in search of grip. The ESP kicks in late, but too eagerly. At 2,000 revolutions, the maximum torque flattens off dramatically, calming down to rejoin the others on the motorway slip road.
Kompletten Inhalt freischalten ...
Kaufen Sie diesen Artikel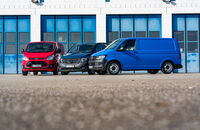 VW T6, Mercedes-Benz Vito, Ford Transit Custom
Good things come in threes
Nach dem Kauf können Sie diesen Artikel in Ihrem Profil unter gekaufte Artikel jederzeit aufrufen. Falls Sie noch kein Profil haben, können Sie sich hier kostenlos registrieren.
9.99 €